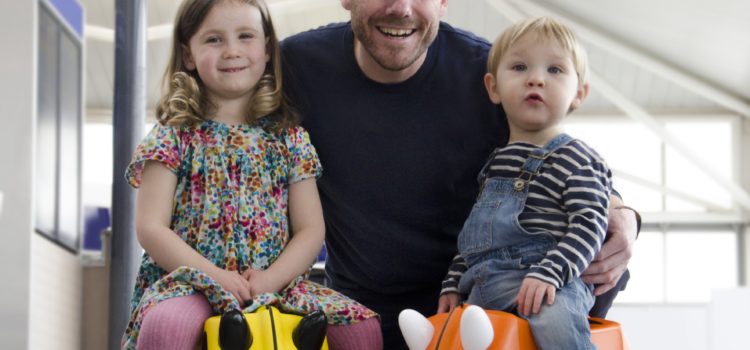 Sunday Times Business picks up our story with cover photo featuring my kids Ida & Rafe:
Magmatic, the company behind the ground breaking Trunki brand, has posted soaring international sales and leapt back into profit.
The Bristol-based company, founded by Rob Law in 2006 and best known for its pioneering children's ride-on suitcase, increased international sales by 17%, posting total sales of £9.3m for the year ending December 2017, in accounts soon to be filed at Companies House.
Growth across the EU was particularly strong, up by 29%, while Magmatic also experienced significant success in fast-growing markets such as China and Russia. International sales now represent 57% of the business with Trunkis having been sold in more than 100 countries worldwide.
The company saw earnings (EBITDA) rise to £517,000, compared to a loss of £110,000 the previous year.
Backed since 2013 by BGF, Trunki and Magmatic's other range of innovative travel products are sold in leading UK retailers such as John Lewis, Amazon, Argos and Boots. A fifth of all three to six year olds in Britain own the flagship Trunki suitcase.
The latest results mark an impressive year for the company following a costly four-year legal battle against copycats which culminated in a disappointing Supreme Court ruling for both Magmatic and the wider UK design community.
Rob Law, founder of Magmatic, said: 'We're delighted to have swung back into profit and particularly pleased that our international growth continues apace. In challenging times, we have made great strides into new and existing territories where children around the world have been taking Trunki to their hearts. We look forward to extending our reach through strategic partnerships, particularly in markets such as the US.'
Soaring international sales drive Trunki back into profit